> Home
Child labour is not a natural phenomenon. It was created by man and can be ended by man.

In A world for children - Growing up without child labour author and photographer Peter de Ruiter, touches a raw nerve. During his travels in nine countries across three continents he began to understand the reality of child labour, how it originates and why. He made notes of the fallacies created to justify why children should work. He photographed the injustice the children are subjected to. And he offers solutions! The reader is given different ideas on how to personally take action against child labour. Read more

Photo exhibition Peter de Ruiter on child labour in Berlin september 2010
1 September 2010 - The photo exhibitions on child labour of Peter de Ruiter, based on his book A world for children, was shown in Berlin from 1 to 12 september 2010. The opening was made with a seminar on the subject, in which ngo Global Human Rights participated. The location of both was the Franzoesischer Dom . For more information contact the Dutch embassy bln-pcz@minbuza.nl or Peter de Ruiter.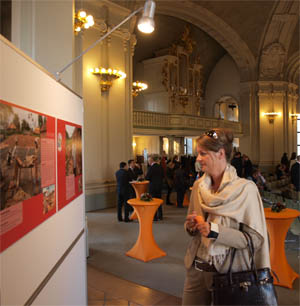 European Union to take measures against child labour
14 June 2010 - The European Union is to introduce a package of measures to eliminate child labour. This was decided by the European Ministers of Foreign Affairs in Luxembourg today, in response to an initiative by the Netherlands. Read on
A world for children also in French, exhibitions in Paris, London and Berlin
Early May the French edition of A World for Children was released under the title Un monde pour les enfants - Grandir sans avoir à travailler. The same day an exhibitionbased on this book by writer and photographer Peter de Ruiter opened in Paris. Later this spring, the exhibition will be repeated in London (3 June, St James Church, close to Piccadilly Circus) and Berlin (1 - 12 September, Franzoesischer Dom . The French edition of the book and the exhibitions are an initiative of the Dutch Ministry of Foreign Affairs, a leading force in the European Union focused on eradicating child labour.
Peter de Ruiter's photos were also shown at the exhibition Child Labour Exposed, where the work of 20 photographers from all around the world, depicting children at work is being exhibited. The exhibition took place to coincide with an international conference on child labour in The Hague, the Netherlands, on 10 and 11 May. Approximately eighty countries took part in defining measures to eliminate child labour worldwide. The conference was organised by the Dutch Ministry of Social Affairs and Employment in cooperation with the International Labour Organisation (ILO).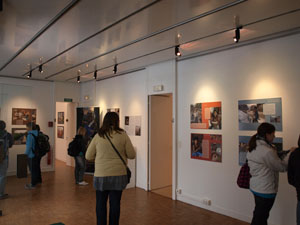 Exhibition in Paris (2010)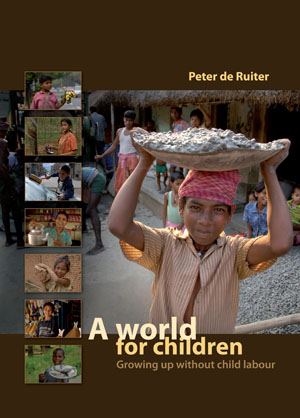 French foreign minister Bernard Kouchner accepts Un monde pour les enfants
25 May 2010 - After a meeting with his Dutch counterpart Maxime Verhagen (background) in the Netherlands, French foreign minister Bernard Kouchner accepted today a copy of Un monde pour les enfants from author and photographer Peter de Ruiter. Kouchner was in Rotterdam to discuss joint French - Dutch actions against child labour, as well as many other subjects. Peter de Ruiter says the book proves the strong Dutch commitment in finding solutions for this phenomena, both in bilateral as in EU constellations. French and Dutch school children contested each other in keeping a football in the air, using a child labour free ball and wearing child labour free t-shirts. Just before that, Peter had 'taught them a lesson' about child labour, using photos and view from his book.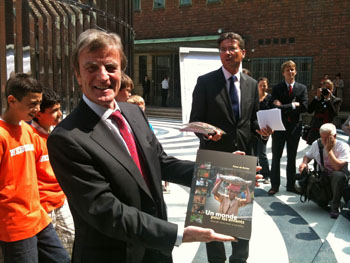 French foreign minister Bernard Kouchner showing his copy of Un monde pour les enfants.

Buy the book
The French edition is available from Librairie La Géographie, 184, Boulevard Saint-Germain, Paris and in the Netherlands from Bol.com. The English edition can be purchased from Bol.com and Amazon.com.