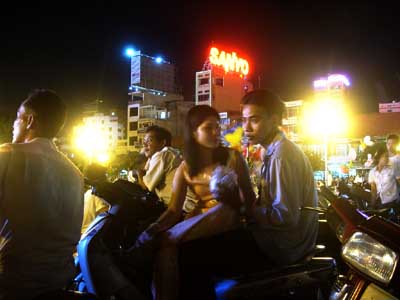 Openingsscene Apocalypse Now
"Saigon, shit. I'm still only in Saigon. Every time I think I'm going to wake up back in the jungle. When I was home after my first tour, it was worse. I'd wake up and there'd be nothing... I hardly said a word to my wife until I said yes to a divorce. When I was here I wanted to be there. When I was there, all I could think of was getting back into the jungle.

I've been here a week now. Waiting for a mission, getting softer. Every minute I stay in this room I get weaker. And every minute Charlie squats in the bush he gets stronger. Each time I look around the walls move in a little tighter. Everyone gets everything he wants. I wanted a mission, and for my sins they gave me one. Brought it up to me like room service. "
Bright lights
20 oktober 2002 - Bright lights, big city. Op het centrale plein van Saigon, nu Ho Chi Min City, drommen op zondagavond gezinnen, vriendenclubjes en lovers op hun Honda Dream samen. 'Saigon. Shit, I'm still only in Saigon', waren de eerste woorden van Martin Sheen als captain Willard in de film Apocalypse Now (zie de tekst onder de foto). Evenals Hanoi kent Saigon een Apocalypse Now-bar (die in Hué is dicht), maar behalve een sufboard met de tekst 'Charlie don't surf' en een plafondschildering waarvan een fan de wieken vormt,draagt de plek weinig bij. De t-shirts met de titel van de film die er worden verkocht, zijn zelfs gesteld in de verkeerde lettersoort. De 'goede' soort is gekaapt door t-shirts van de film Good Morning Vietnam die je in het hele land kunt kopen. Een soort heiligschennis dus, als we de volgelingen van regisseur Coppola mogen geloven (= alle leden van het DA-team).