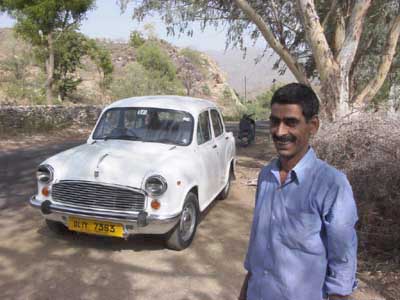 Make your trip to Rajasthan with me

Hello! My name is Kamal Singh. I was the proud driver of this fine Ambassador car, the very 'deluxe' car in India. I am an excellent driver, I speak English very well, I know the roads, the good places and I have a great sense of humour. When you come to India, make your tours with me. It will be an unforgettable experience! I am based in Delhi, but I have an 'all India permit'.
Facesofdelhi@yahoo.com
kamal_43_in2002@yahoo.co.in
yatritour@gmail.com

Mobile +91 (0)9810382559
I.12 Shri Niwas puri New Delhi 110065

WhatsApp +91 8826463823
Incredible Independent Tours

Kanwar Jeet Singh has more than 17 years experience as a private driver in India, specializing in northern India and the Rajasthan, UP, UA and MP area. Many people who choose to travel in India these days are opting for a private driver, as it is often the most convenient and cost-effective way to see this incredible country. A private driver offers you the freedom of choosing your own route and setting your own travel pace, with the comfort of car travel and the option of pre-organised accommodation.

Based in Delhi, Mr Singh has extensive experience in organising and conducting tours throughout India, and has worked for a travel agent for many years before branching out as an independent tour operator. Over the years he has driven many tourists on a variety of different routes, and his knowledge of the roads, distances and travelling times is second to none.




Mr Singhs business success has been built solely on referrals and repeat business from satisfied customers (see the References page for comments by previous customers). If you're heading to India but not sure how best to plan your trip, let Mr Singh know your schedule and the places you'd like to see, and he will get back to you with his suggestions for your route, and a detailed tour quote. Mr Singh will assist you with the planning and coordination of your trip, and he or one of his trusted colleagues will serve as your private driver. Mr Singh takes great pride in providing you with high quality service.

With his excellent spoken English, a wealth of local knowledge, and a solid history of happy travel guests, Mr Singh is the ideal person to help you reach your India travel goals. Let us Test Drive airport to City center